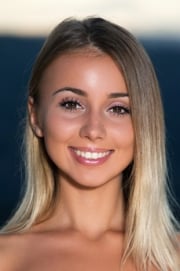 Aida biography:
Aida is a magnificent nude model born in the Ukraine in 1994 and began her career in the adult industry in 2015. She brings a fresh face to the industry and of course one of the best hot firm bodyís you will see. Her B cup boobs are just the right size for sucking and with her petite frame standing at five feet four inches tall you can only imagine all the positions she can achieve. You may know Aida by one of her other aliases such as Linda Chase or Linda A.
She is one of the favorites when it comes to nude girls and has been showcased in different adult magazines including Playboy Plus and MPL Studios. Aida is not only eye candy but is also a smart hot girl that is going to college for a career in accounting. Once you see her erotic pictures and nude pics you will certainly want to hire her to keep your books. Her friends know her to be fun but not really into the night scene. She prefers to be at home to party which makes it more intimate.
At nude-gals.com, Aida strips for you and lets you see just how stunning her petite body truly is which will certainly give you a rise. You will want to spend as much time as possible with Aida and view her sexy photos. She may not pose with other naked women but after you start viewing your erotic photos you will not need anyone else in the pic. You will love her tan lines, seeing her strip off her sexy lingerie and once you get a glimpse of her juicy pink shaved pussy, you will certainly become a fan of this hot girl. Give her a rating and let her know you love her.
Relative Models