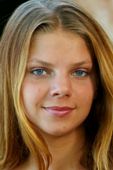 Olivia E biography:
Olivia E was born in 1989 in the Russian Federation. You may know this hot blonde by one of her aliases such as Kendra and Olivia. Her sexy bod shines through whether she is dressed in leather or completely nude showing off her near perfect frame of 35-24-36. She began her career in 2007 when she first appeared in an adult magazine as a young teen of 18. Her erotic pictures and sexy photos helped her grow a huge fan base in a short amount of time. Olivia is one of those gorgeous gals you want to get to know a bit better. She loves cuddle time and candlelit dinners and believes in treating everyone with kindness.
Olivia E standing at five feet nine inches tall has long slender legs that lead to her sweet shaven pussy that is sure to make you ache with pleasure. She may only do glamour photo shoots and lez shots, but that is all you will need to get your cock standing at attention. She enjoys being nude with other naked girls including Amelie, Yara, and Sharon B. As you browse through her gallery you are going to fall in love with teen heartthrob and all of her sexy photos whether alone or with other 18-year-old hot girls.
At nude-gals.com, we fell in love with this blonde haired blue eyed goddess that thrilled us without even trying. She knows how to make love to the camera as well as show off her talents for making you cum in a very short amount of time. Be sure to give Olivia E a rating so she loves just how much you want to watch her in action. This will give her the incentive to come back and possibly do more than just glamour and lez shots.
Relative Models