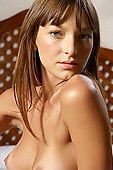 Flora biography:
At first glance, you may believe that Flora is a shy sexy hot girl but she is actually a very independent and determined nude model. She was born in Argentina in 1987 and appeared in her first adult magazine in 2009. She knows her own sexuality and is never shy in front of the camera. Her determination not only in life but her desire to be all she can be certainly shows through in her erotic pictures and nude videos. Posing with guys and gals alike she holds her own. As a matter of fact, she actually adds to each sexy photo whether she is holding a dick near her sweet lips or placing a hard cock just at the tip of her juicy pussy.
Flora has posed with other nude hot girls as well which certainly makes a huge statement of her feminine side but she really knows just how beautiful she is. Her bronze skin tone, long slim legs, and beautiful blue eyes are just the beginning. Once she starts to strip with other naked women or poses nude with a man or sexy teen, she actually gets hot and bothered herself. A few of the other naked women you may have seen her with are Victoria R, Ama, Tracy Lindsay, Whitney Conroy, Sylvie Luca, Alena I, Thea, Cox, and Zaika.
At nude-gals.com, you will see her attitude unveiled as well as revealing her perfect shaved pink pussy. We knew this Argentinian goddess was well worth the time and we know you are going to get a stiff dick as soon as you see her beautiful body in sexy photos or nude videos. If you like a hot girl to tease you for as long as your cock can handle it, then Flora is your sexy babe.
People that viewed this model also viewed: