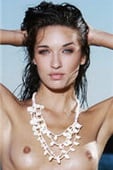 Olga M biography:
Olga M was born in 1984 in Crimea, Ukraine and started her career in the porn industry in 2006. You may know Olga by one of her aliases such as Raylene, Adrianne K, or Orea. Standing at five feet nine inches tall and weighing 112 pounds with long black hair, blue eyes, and a slender build of 34B-24-36 you can imagine just how firm and tight her body is but once you see her in action, you are certainly going to have a dick that is at full attention. She loves dancing and hopes to one day have a career as a choreographer, but until then she is more than happy modeling nude alone and with other hot girls including Inga C and Laila A.
Olga M has been featured in adult magazines online as well as offline showcasing her erotic pictures, nude pics, and sexy photos. No matter if she poses alone or with naked girls, you are sure to have your every fantasy fulfilled. She is a bit of an exhibitionist as she can strip completely nude indoors or outdoors for the world to see her beauty. Even though she only models at this time, who knows she may get a bit more adventurous and show us some more of her talents.
At nude-gals.com, we fell in love with Olga M as she knows how to make love to the camera which of course is exactly what we want to see in a hot girl no matter her age. When it comes to naked women, this sexy hot babe can truly get your attention and have you cumming in no time. If you want to go a bit slower, then you had better click your mouse slower as her photoshoots are truly too hot and fast to handle.
Relative Models