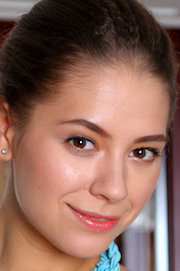 Olya Fey biography:
Olya Fey was born in the Russian Federation in 1992. She is a very shy sweet angel that makes you want to take her home to meet mother, however, once she starts stripping you see a completely different side. Her little bit of wild side takes over and she seduces you as she slowly removes her clothing to reveal her teen bod at 35-25-35. Even though Olya only does glamour shots and does not pose with other nude girls, your every fantasy will easily be fulfilled. There are no other naked girls that have anything on Olya. She has that young teen spunky attitude that makes her a favorite especially when she looks at her with those dark brown eyes that just melt your heart and make your cock rock hard as she shows her nice perky boobs.
Olya Fey is so popular that in 2015 she won the theNUDE #8 newcomer of the year and in April of 2017 theNUDE of the Month. You may also know her by one of her aliases that she has used in adult magazines such as Inez, Olina R, or Cassandra. She really loves having erotic pictures and sexy photos taken as she poses and seduces all that spend even a few minutes viewing her nude pics and nude videos. She stays in shape my playing different sports and enjoys the sunshine.
At nude-gals.com, we knew all of our fans would fall in love with Olya as soon as we saw that shy little smile and our dicks pointed her direction with ease. Her sweet shaved pink pussy and nice round boobs were enough to keep us watching her for hours. If you love Olya Fey as much as we do, then be sure to give her a rating so she will undress for all of us again.
People that viewed this model also viewed: