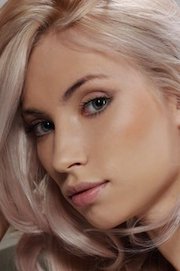 Adele B biography:
Adele B also known in the adult industry as Goldie B, Sveta, Rachel, Adelia B, Lina, Adele EA, and Adele P was born in Russia in 1990. This gorgeous blonde haired nude model is a hit in several adult magazines and has a large following. She began her career as a nude model in 2010 and was soon a favorite for many. Adele B has a stunning figure and long legs that lead to the perfect shaved pussy. As you look into her brilliant green eyes you will fall in love before you have the chance to imagine holding her curvy sexy body in your arms.
She usually does solo erotic pictures, but she will also pose with other nude girls including Kari, Anita Berlusconi, and Niki Mey. She is a romantic and loves the starry sky so guys if you ever get the chance to take her on a date, plan a picnic under the stars and she will be all yours.
At nude-gals.com, you can spend hours with this luscious blonde haired angel. She knows how to look elegant and a bit naughty at the same time as she poses perfectly so you can view her small boobs and perfect puffy pussy. She enjoys showing off her succulent breasts and pink pussy just for you. As will slowly strip and tease you as she only uncovers a bit of her petite body at a time until you are ready to explode. We know Adele B will be one of your favorites as she knows how to make you cum time and time again. Be sure to let her know by give her a rating. We know that you will want to see more of this beautiful naked lady and with some of her other nude girls.
Relative Models