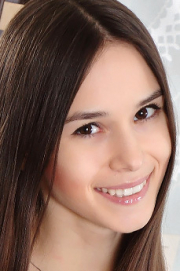 Magazine Biographies of Leona Mia's
Now I'm studying to be a Chinese translator. I want to soon leave for China and stay there to live and work. I am very attracted to the culture of Asia. I like their climate, food and attitude to life. I really love my hair, I try to look after them constantly, and I also love to sing and dance.
If you are looking for the girl of your dreams, look no more. Meet Leona Mia. A beautiful and erotic girl who cannot wait to make your dirtiest fantasies come true. She just turned 18, comes from the Russian Federation, and she is more than happy to reveal her beautiful and amazing body for your excitement. Her perfectly shaped AA tits, body of an angel and her pretty face will make your mind blown away for sure.
Leona Mia is a young nude model from Russia. This charming brunette is the slender type of girl, with a slim but not too skinny body shape. She has subtle and elegant curves, beautiful small tits and a thin waistline. Her legs are long and graceful,...
Relative Models