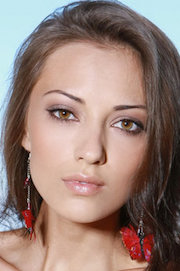 Anna S biography:
Anna S was born on December 24, 1987, in Kiev, Ukraine and grew into a sexy hot porn actress that knows how to turn you on in minutes. Standing at 5 feet 7 inches tall and only weighing 106 pounds her slender body is sure to please no matter how she is posed and how she is getting herself off from in a hot tub with water jets to enjoying a girl on girl rendezvous. Her perfect figure is one that you will never get tired of at 34-22-35 and is considered to be among the top hot girls in the industry.
Her first appearance on the porn scene was with Mariya for FM-TEENS where she enjoyed getting her partner off for the world to see. From here, Anna S, became a hot top nude model posing along with other naked girls and touching her creamy white body just as you would if you got the chance, making you throb like never before. This hot bombshell is known by other names such as Anna AJ and Anna.
Anna S has more confidence in her own beauty and certainly does not mind stripping and playing with herself on camera including hot tub scenes where you might actually get to see her orgasm for the camera or see her having fun with another sexy nude model in all kinds of flexible poses allowing you to see just how much talent she has in bed or wherever she wants to have sex.
At nude-gals.com, you can browse through her 120 photoshoot galleries to view her sexy photos or enjoy the four videos that will do more than just make you throb but will certainly make you cum in your jeans. Do not forget to let her know how much love you have for her but giving her a rating.
Relative Models