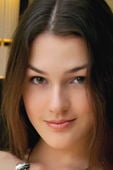 Vanda B biography:
Vanda B is a petite brunette with small boobs that you just want to grab and play with as she has that innocent teen look. She was born in 1990 in Russia and began her career posing for adult magazines in 2010. Standing at five feet seven inches tall she has a slender hot bod and long legs that lead all the way to her juicy shaved pussy. She loves doing glamor as well as lesbian scenes with other hot girls. Whether Vanda B is alone or with other nude girls she enjoys giving and receiving pleasure.
Her fans love the way she likes to oil up and play with her tight pussy along with being frisky with other naked girls. If you want to view sexy photos and nude pics of a beautiful petite gal, then Vanda B is a great choice. She is also a bit adventurous when it comes to being with other naked women and ensuring they both are pleasured like never before. Even a bit of pain is not out of the question.
At nude-gals.com, you can see just how naughty Vanda B can be as you browse through her seventy-three galleries of nude pics. Like to see her alone then check out Desite, Hagena, or Edijyn. Edijyn is one of the most popular as she oils herself and pours hot wax on her body before playing with her tight pussy to climax. You may also want to see her with other nude girls which will give you, even more, pleasure and make your cock stand at attention. A few of the most popular lesbian erotic pictures include Fenica, Ethera, and Saccan. If you like what you see, and we know you will leave her a rating. This will ensure she will come back time and time again for more photos for adult magazines.
Relative Models