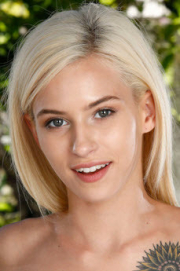 Magazine Biographies of Kiara Cole's
Kiara Cole is a cute little thing whose tiny figure is absolute perfection. We love her big smiles as she shows off her tiny titties tipped with pierced nipples and then moves on to showing us how she likes to masturbate her mouthwatering bare pussy.
Blonde babe Kiara Cole is a total pint-sized treat. Her short stature doesn't stop her from flaunting her full tits and big bubble butt, which attract lovers like bees to honey. We love everything about this bubbly student, from her certified nubile body to her constant smiles and moans of pure bliss.
Relative Models