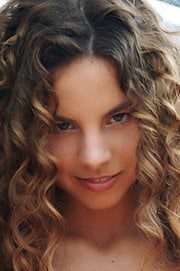 Altea B biography:
Altea B was born in Bratislava, Slovakia in 1987 and was first seen in an adult magazine in 2005. This hot brunette knows how to spread her legs so you can get a nice shot of her universal pussy that has visible inner lips and when she touches her puffy nipples you just cannot get enough. Her gorgeous hazel eyes almost mesmerize you, then you get a look at her small boobs and slender body and you are in love. She loves sports and competition and has been known as a tomboy, but in her glamor erotic pictures and lez scenes with other nude girls, you will think she is a bit tomboyish.
Altea B loves playing a variety of sports especially outdoors, but she does not like it when others let her win just because she is one hot sexy gal. She can win all on her own and has proven it. You will love her nude pics, sexy photos, and nude videos whether she is going it alone or with other naked girls. Some of the girls she has been in lez scenes with include Suzie Carina, Ennie A, Ellena, Jana Mrhacova, Victoria Kruz, Natali, Nina A, Nessa, Hana, Lizzy, Bijou A, Anita, Sonia Red, Chiara A, Iveta B, Jenni, Demi A, Angel Dark, Fasterova, Veronika, Nikky Case, Torry, Alison, Giselle, Vanda A, Tea, Melisa A, Eufrat, and Gina A.
At nude-gals.com, you are sure to love every nude pic of her in solo sessions as well as with other hot girls. Altea B knows how to make a room steamy hot and is sure you make your dick hard in a matter of minutes. Her tight athletic bod and pretty pink trimmed pussy will keep you going all night long. Give her a rating to keep those hot sexy photos coming.
Magazine Biographies of Altea B's
I can be very tomboyish and competitive. You? Tomboyish Ummm... No really...I like sports and the out doors and I love to compete. I like to win too... sometime too much. Boys can get sulky when they lose. How could anyone lose when playing with this beautiful girl Just being near her is a victory! And I don?t like when they let me win. I can win all on my own and then I can gloat. She says with a giggle. I am not mean... I just let them know I won in a fun way. You can let us know any way you want Antea.
Relative Models