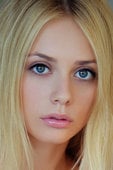 Jennifer Mackay biography:
If you are looking for an all-natural nude model, then you may not find one more perfect than Jennifer Mackay. There is nothing fake about this hot nude girl in any way. Her sexuality just oozes as she poses for nude pics and erotic pictures. Standing at five foot seven inches tall with very nicely shaped boobs and slender body, you cannot help but stare even when she is fully clothed. But, once she starts removing items and showing off her bare breasts and shaved pussy you may not be able to control yourself.
Jennifer Mackay was born in the Ukraine in 1992 and hit the adult magazine world in 2012 and soon became a favorite. When she started posing for sexy photos everyone knew she was a natural. There was nothing awkward in the way she moved just like she was born for posing in nude pics. Stripping was exciting and seductive as you can see in all of her wonderful sexy photos.
At nude-gals.com, you had better be ready to spend quite a few hours with Jennifer Mackay or come back when you can as once you start viewing her twelve photo shoots you will not want to stop. For those that love long legs and stockings, you will want to grab your cock and check out Presenting Jennifer. Of course, every photo shoot will make you hard as you see those perky boobs and that nice tan line showcasing her shaved pink wet pussy. If you want to see more, remember to give her a rating. This will make her cum which will certainly give her the thrill to pose for you again and again. We know Jennifer Mackay is a favorite for many porn fans and we know you will be one of her many fans.
People that viewed this model also viewed: