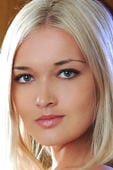 Nelly A biography:
Nelly A was born in the Russian Federation in 1985 and began her career as a nude model in 2007. This blonde haired blue eyed goddess will make your heart beat twice as fast even if all she does is glance your way. Her mysterious eyes and gorgeous body will ensure you cannot look away. Her measurements are 36-23-37 and standing at five feet seven inches tall, you can imagine just how beautiful this hot girl can be in any scenario. Nelly A does not have to act as her natural sexuality and beauty shines through when in front of the camera.
You may know Nelly A by one of her aliases which include Nelly, Nata, Monika, Eleonora, Chantal, Britney, or Anna. She loves being in front of the camera for glamor shots as well as softcore lesbian scenes. She has appeared in different adult magazines and websites including Erotic Beauty and has performed with Lidiya and Sasha. Posing nude is one of her favorite activities as she can express herself with ease while making you drool the entire time.
At nude-gals.com, you will enjoy all the time you spend with Nelly A. We knew she was a keeper and believe that you will completely agree once you start looking at her erotic pictures and nude videos. Whether alone or with other hot girls, Nelly A will help fulfill all your fantasies in her sexy photos and nude photos. Indoors or outdoors, Nelly A is one sensual and gorgeous hot girl that you are sure to love. We know that we have become fans and believe that you will agree. If you do agree and want to see more of her, please give her a rating. This will let her know how large her fan base is growing.
Relative Models