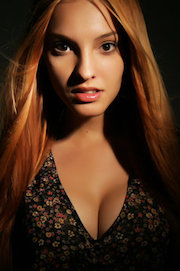 Kira W biography:
Kira was born in 1992 in the Ukraine and appeared in an adult magazine in 2012. You may see her with blonde hair but actually, she has auburn hair and mesmerizing brown eyes that can tell exactly what you want at first glance. Her small frame and gorgeous body make her a dream come true if not a stunning goddess. Standing at five feet eight inches tall and a figure that is perfect 33-23-34, you will not want to stop staring. She stays fit by dancing and swimming but she loves the camera as much as it loves her.
Kira W does not pose with other nude girls but she is considered one of the hottest nude models in the industry today. She knows how to tease you and get you hot and bothered no matter what props are available. Just the way she looks at you makes you want to cream in your jeans. Flexibility, charisma, and mystery are all ways to describe this stunning long legged beauty. From her small boobs to her long legs she is one gal that you will want to get know better.
At nude-gals.com, we knew we had a keeper as soon as she saw that flowing auburn hair gently caressing her petite boobs. Then when we saw her in action, we were done. We know you are going to love watching her especially in her erotic pictures such as Cleaning House and Wet Rose. Of course, you will love every nude video and all of her sexy photos that will take you to the ultimate climax. If you agree and want to see more of Kira W, be sure to give her a rating. This will give her just what she needs to reveal even more of her perky boobs and sweet shaved pussy.
Relative Models