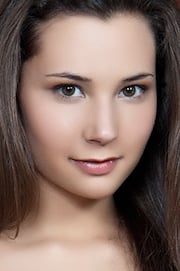 Oretha Mars biography:
Oretha Mars is a gorgeous brunette with brown eyes that can see into your soul. She was born in 1994 in the Republic of Belarus and started her career as a nude model in 2012. Her shapely curves are just one reason that she has been found in different adult magazines. She is one hot babe that does have her navel pierced, but you may not take the time to see if she is wearing a navel ring as you are staring at her hot sexy body while your cock rises. Standing at five feet seven inches tall, you can just imagine the fun you will have licking your way up her long legs to that sweet juicy pussy.
Oretha Mars mainly performs for solo glamor for adult magazines and various photo shoots. On the other hand, she does love performing with other naked girls including Olya O, Liv A, Penelope B, Leila A, Quinn A, Milania A, Zelda B, Vittoria Amada, Emily Bloom, Dakota A, and Walda.
At nude-gals.com, you will love Oretha Mars as she is a more than a goddess but can be described as an angel on earth. Her long hair and puffy pussy will make you explode in just a matter of minutes. She knows exactly how to slowly undress so your cock will get rock hard before she spreads her legs wide open to reveal a sweet pussy with the perfect amount of cush to keep you rocking for hours. If you like what you see and want to see more and more, then give her a rating. She will surely want to please you as she knows how to have sex with the camera and help you get your rocks off. This is one hot babe that we know you will want to mark as one of your favs.
People that viewed this model also viewed: