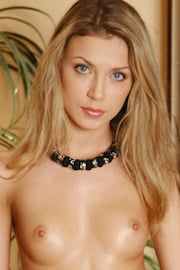 Anna M biography:
Anna M was born in 1988 in the Ukraine and began her career as a teen nude model in 2007. This tall skinny girl has small boobs and a petite frame with long sexy legs. Her blonde hair and stunning green eyes are the first features that will attract you. However, once she starts removing her clothing, and you see that hot teen body you are going to drool. Her tight pussy does not have a lot of cush, but that just means you can really go deep. Anna is also known as Anna P, Lika, and Anya according to the adult magazine she is showcased in with most being glamor shots. She has performed with one other hot girl which is Valerina A.
Anna M loves people and certainly loves being nude in front the camera. You may find that when she poses for erotic pictures, nude pics and nude videos that she does not seem a bit shy. Other naked girls often seem a bit stiff, but not Anna M. She knows the idea is to get your cock hard and stiff and to perform naturally in order to get your rocks off. She loves to look into the camera and tease you with her movements and even fingering her pussy.
At nude-gals.com, you can see every inch of Anna M in all kinds of different photoshoots that are sure to please you and your dick. From playing with her tight pink pussy in a bubble bath to getting nude in a field, her shaved pussy glistens as she waits for you to cum. Her glamor nude pics are truly amazing and we know you will want to see more of Anna M. If you agree with us, give her a rating. This will turn her on and she will turn you on in return.
Relative Models