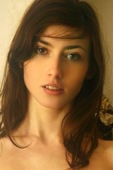 Katya P biography:
Katya P was born in 1984 in the Ukraine. This hot blooded erotic nude model is one that will keep your attention as you view all her erotic pictures and nude pics. She began her career in the industry in 2004 and has different aliases you may know her by including Katarina, Dasha, Kateryna, Katarina B, Lola, Olesia B, and Nina. Standing at five feet eight inches tall she has a slender body and nice boobs.
Katya P will certainly get your attention with her soft curves and trimmed pussy, just leaving enough hair to stay a bit natural but trimmed just right so you can view that pink pussy. She loves nude modeling alone or with other naked girls such as Elena B, Nastiya A, Viktoria B, Irina H, Vika R, Vera B, Karira A, Tanya, Jasmine A, Natasha G, Cherry, and Yolla.
At nude-gals.com, you will love watching her slowly strip for the camera and posing in all kinds of photo shoots. If you love fishnet stockings or stockings on long sexy legs, then Katya P is the gal for you to watch strip. Her nude pics will keep you up all night long as you envision caressing her beautiful body and playing with her juicy pussy. Her sexy photos may be more than you can handle as she knows how to shine in front of the camera as if she is only stripping for you and you alone. Check out the sexy pics in the Splendian gallery to see Katya P wearing nothing but high-heeled boots and how easy being nude is just natural for her. Her perky boobs and long legs are sure to make you a fan in a matter of minutes. If you love her pics and want to see more, give her a rating.
People that viewed this model also viewed: