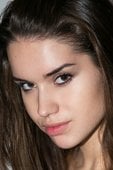 Aza biography:
Aza is a striking tall brunette born in the Ukraine in 1994. She began her career as a nude model in 2013 and enjoys stripping for the camera. She may not be seen with other nude girls at this time, but once you get a glimpse of her gorgeous long legs, shaved pussy, and small boobs, you will be in heaven. This teen gal knows how to get you stiff when you see her in erotic pictures and nude pics as well as in adult magazines. Her perfect frame at 36-26-39 makes you drool and want to kiss her from head to toe. Of course, that will be impossible as you may never get past her big boobs or nice tight pink pussy to cover every inch of her five feet nine inch tall body, but you will savor those long sexy legs.
You may know Aza by one of her aliases which are Tara I and Summer according to the adult magazine she modeled for at the time. No matter what type of naked girls you like, Aza will certainly fill the bill. As you browse her sexy photos and nude videos you can see that her sexuality shines through. Her naked pussy and puffy nipples are just what is called for at any time when you want to spend time with an erotic and sexy gal.
At nude-gals.com, you can stare into Azaís green eyes and slowly take in her entire body while your cock grows harder with every erotic picture. As you watch Aza spread her legs and reveal that sweet nice tight juicy pussy, you will surely have a hard time holding back. Be sure to let Aza know how she pleased you and your rock-hard dick and give her a rating. This will be a great way to see more of this sexy gal.
Relative Models