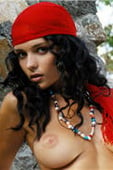 Jenya D biography:
Jenya D was born on March 30, 1985, in Kiev, Druzhkovka, Ukraine. This gorgeous firm bodied gal gets attention everywhere she goes whether she is just walking down the street or being featured in international editions of Playboy. Not only was she featured as a centerfold and on the cover of Playboy editions in Argentina, Greece, and the Ukraine, but she was also chosen as the Playboy Cyber Girl in April of 2011 and again in August of 2011.
Jenya D, also known as Yevgenia Diordiychuk, Venesa Gojgik, Shawnee, Jenya, Eugenia Diordiychuk, Eugenia, Evgenia D, Evgenia, and Katie Fay has large tits which certainly draw quite a bit of attention. Her firm stature and gorgeous figure at 37-24-36 are certainly what has helped her succeed in the adult industry since 2005 and be found in adult magazines.
At nude-gals.com, you will find Jenya in all kinds of photoshoots which include full frontal, topless, masturbating, and even girl on girl. She is just one of the naked girls you will see when you view your erotic pictures. One of the photoshoots will certainly get your attention and may become of your favorites as you can see Jenya with two other gal pals showing off their beauty and of course their naked bodies for your pleasure. As you browse through the 96 galleries, there are many different photo shoots and scenery to help put you in the mood. Of course, just one glance at Jenya D and you will want to spend hours getting your rocks off to her photos.
After you check out all the sexy and hot photoshoots, remember to give her a rating as this will help get her hot and horny and wanting to strip. The more turned on Jenya gets, the hotter the photos will be, which of course, will cause an even faster rise in your pants. Enjoy the sexy slim Jenya D on our website, we know your cock will.
People that viewed this model also viewed: