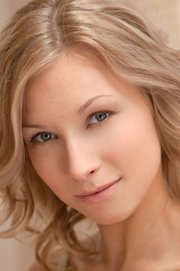 Daisy A biography:
Daisy A was born in 1992 in Latvia and began her nude modeling career as a hot teen in 2011. As soon as she hit the scene, she had a large fan base. Her gorgeous blonde hair, blue eyes, and hard body were just the beginning. As soon as she stripped off her clothing and her normal boobs with large puffy nipples and cushy shaved pussy were seen that was all it took for her to become the fav of many. Standing at five feet five inches tall, her slim body is perfect for any position you desire and she shows you in her erotic pictures.
Daisy A enjoys posing nude mainly for solo glamor photo shoots but has performed with other nude girls from time to time such as Gunda P. When you look into alluring blue eyes, you are hooked but as soon as you get a glance of her large pussy lips that provide just enough cushion, you will be more than hooked. She is one hot babe that can make you explode within a few minutes. You may know Daisy A by Tessi A, Denita, Tessi, Darta A, Darta, and Daisy Lee.
At nude-gals.com, we know Daisy A will help fulfill any of your fantasies. The perfect date for Daisy A would be going to art galleries or to the theater, however, she loves cooking, so maybe staying at home and getting the house all hot and steamy might be perfect as well. In her own words, she states she would be the perfect wife. We just know that you are not going to have a problem getting a hard dick once you start enjoying her nude videos and erotic pictures. If we are right, give her a rating so she will strip for you time and time again.
People that viewed this model also viewed: