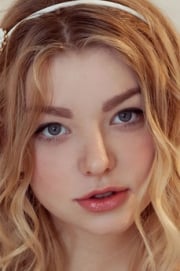 Daniel Sea biography:
Daniel Sea is quite new to adult magazines, nude videos, and new pics; however, she is one of the 18 hot girls that made a showing this past year on the net. She has a huge fan base due to her shy and cunning looks and those large boobs measuring 37D and large areolas that make you want to suck on them all day long. Going down her gorgeous body, her small pussy with discreet inner lips bring on, even more, excitement.
Daniel Sea loves removing her clothing and can take on any role for her glamor shots. Born in 1998, this 18-year-old teen from Belarus has become one of the favorites on many websites offering erotic pictures. She is an adventurous type and loves partying especially when she can host. Once you look into her green eyes and then slowly take in the rest of her body you will be aroused quickly.
At nude-gals.com, you can see Daniel Sea in eleven galleries with several sexy photos that will make you hot. You can watch as she slowly strips just for you. She is proud to show off her small pink puffy pussy that has just enough cush for your pure enjoyment. Watch Daniel Sea as she touches herself while not only bringing you to the brink but pleasing herself at the same time. Every one of her photoshoots will give you another glimpse of just how Daniel can turn you on in any situation and any setting. She is an indoor kind of girl that loves to be naked and give you all of her so you can dream the night away or get your rocks off. Give her a rating so she will know how much you love her hot body and there will certainly be more of her to come.
People that viewed this model also viewed: