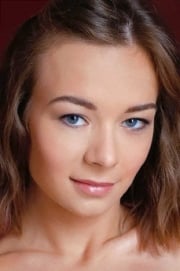 Madeline Y biography:
Madeline Y was born in the Ukraine in 1996. She began her career as a nude model in 2016. This new hot girl hit the industry by storm as soon as she was first seen in an adult magazine. She gained fans like quickly due to sparkling blue eyes, light brown hair, and her stunning figure. Her big boobs are of course a huge benefit, but her personality and sensuality have quite a bit to do with her quick success. Standing at five feet seven inches tall with measurements of 35-24-35 make her picture perfect. What really gets her fans is that her large tits are real.
Madeline Y loves to be the center of attention that is why nude modeling is now what she calls her hobby. She loves performing at auto shows and fashion shows as well, just about any place where she can show off her gorgeous body. She mainly does solo glamor shots but has posed with one other hot girl which is Kate. She was very interested in learning about her own sexuality and of course, wanted to enjoy sex alone as well as with others. Her idea of going into the porn industry would fulfill this need and it seems to have done the trick.
At nude-gals.com, you can watch Madeline Y grow from a shy girl into a full-blown nude model. She is very flexible and shows you exactly what you want to see to get you aroused and wanting more until you explode and then want even more. You will love her large 35C boobs with huge areolas and that meaty cushy inviting pussy. WE know you are going to want to keep her around, so be sure to give her a rating. She will notice how fast her fan base is growing which will entice her to perform.
People that viewed this model also viewed: