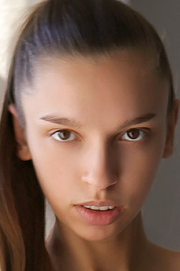 Magazine Biographies of Aya Beshen's
I love to travel, participate in sports swimming, arts, foto-arts and dance.
Oozing Lust and Love Wildly passionate, Aya has emotional fire roaring in her belly. A real firecracker of a personality, there's never a dull moment. A professional fashion model from Kiev, she is driven wild by the camera. Nothing gets her more excited. But she has had to wait for her 18th birthday before getting to show you all the assets she is blessed with. Her body is spectacular: super skinny yet with huge handfuls of joy. She has a figure that makes women jealous and men drool. And have you ever seen more delicious lips? They're big, they're hot and they're full of pure lust. Just like the leading lady from Oscar nominated Betty Blue, Aya is a free spirited beauty you could never cage. Don't even try it. Her life is an uncontrollable rollercoaster. Wanna go for ride?
Tall, sweet, slender, and oh so sexy is the international model, Elin from Kiev, Ukraine. This 22-year-old model is here at Playboy Plus for the first time, but don't be fooled, this lady has loads of experience in modeling — mainly posing in artistic nude and glamour shoots. She's taking the world by storm, and it really is no secret why after you've gotten a good look at her. With long straight caramel brown hair, a long slim and smooth torso, and sparkling brown eyes, it's no wonder people all over the world are falling madly in lust with her. Not to mention their favorite part of Miss Elin: her all natural breasts. Large and round, they will have you in awe and pleasantly surprised. When she's not in front of a camera posing, you can find this model traveling, hanging out with friends, dancing or playing sports — she loves to swim. Spend some time with the lovely and outgoing beauty that is Elin, right here on Playboy Plus.
Relative Models