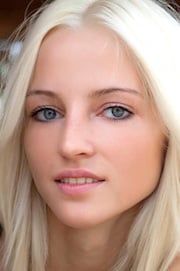 Alysha A biography:
How many hot girls do you know that are blonde blue eyed bombshells that love fast cars and removing their clothes to show off their stunning nude body? Well, if that is what you are looking for then you have found your perfect match with Alysha A. She was born in 1991 in Estonia and was first seen in an adult magazine in 2011. This tall long legged blonde has a petite hot bod that will drive you mad. She loves showing off her B cup boobs and tight pussy with average lips that make you want to gobble them up. She loves posing for sexy photos and erotic pictures alone or with other nude girls.
Alysha A believes a womanís naked body is beautiful and loves showing off her stunning hot bod as well as pose with other naked girls as she loves the bodies of other hot girls. She has been in lez scenes with Jolie B, Itna A, Mia C, Olya O, Paloma B, Mila I, Nomi A, Taini A, Virginia Sun, Gemma A, Nikia A, and Astrud A. Whether in solo sessions posing for nude pics or nude videos or with other naked women, Alysha A is sure to get your attention. Once she spreads those legs and you see that tight shaved pussy you are going to want to see more.
At nude-glas.com, you will love all of her galleries that will make you rock hard. With such a cute and sexy gal, you can easily blow your wad more than once. Just give Alysha A a chance, you will soon learn why she has so many fans. Watching her alone getting into all kinds of positions so you can tell what a night would be like will certainly get you hot and horny. Of course, she has so many nude pics that you will not be left hanging, but she will ensure you finish the job.
Relative Models