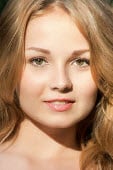 Jeff Milton biography:
This porn star was born in the Ukraine in 1994 as Xenia Semiokhina while also being known as Amanda Moore, Kira, Keira, Ksenia, Ksenia Barinova, and Aksinia Semiohina, but chose the name, Jeff Milton. May not sound like a girl but it shows just how gutsy she is and how daring. Her glamor shots are ones that will have you drooling along with causing a rise in your pants. She has very nice puffy nipples and perfect boobs along with a small pussy and discreet inner lips. When you look at her for the first time, you just want to grab her and fuck her for as long as you can before you blow your wad.
Standing at five feet five inches tall she is quite slender which allows her to get into all kinds of twists and turns to show off her gorgeous hot body. Whether alone or with other hot naked girls, Jeff Milton gives it her all. She has done photo shoots with other nude girls including Vittoria Amada, Yvonne, and Gabriela D. Jeff wants to experience all that life has to offer and while showing off her erotic pictures to the world. You can see her confidence and how comfortable she is with her own sexuality in all the nude pics even when she is with other naked women.
At nude-gals.com, we have fifty-five photoshoot galleries that are sure to please you more than you might imagine. She will give you all she has and all you should in return is give her a rating. This will cause her to want to show you just how flexible and sexy she can be in every situation. Indoors, outdoors, and in the bath, Jeff Milton knows how to shine and let you see her pink juicy pussy in action.
People that viewed this model also viewed: